Unic Press UK: In a peaceful march Saturday in Washington, DC, thousands of people expressed solidarity with President Donald Trump demand that only legal votes should be counted, raising further the allegations that the U.S. Presidential Election 2020 was rigged to favour the main opposition candidate Joe Biden.
AMAZING! Can hear you all from the West Wing Colonnade. A beautiful day in Washington, D.C. THANK YOU, PATRIOTS!! #MAGA🇺🇸🦅 pic.twitter.com/RJJ8bvYlfr

— Dan Scavino🇺🇸🦅 (@DanScavino) November 14, 2020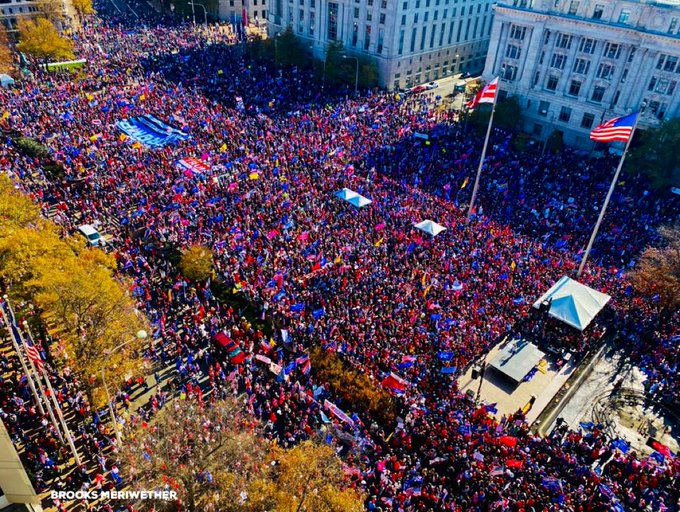 No state in the United States has certified the election results in its prefecture. However, some media organisations [Unic Press excluded] have named the Democrat's candidate Joe Biden as the projected winner; while many notable news firms have doubled down by addressing Biden as the president-elect.
There are loads of court cases challenging the election and ballot counting. There are whistleblowers' alleging several kinds of electoral fraud.
An election technology company known as Dominion, which was widely used in this election, is being accused of deleting the votes for one of the candidates and, in some cases, deliberately flipping or switching votes in a way that favours a particular candidate.
Speaking to Newsmax TV Saturday, a senior advisor for the Trump campaign, Jenna Ellis, said:
"We need to have an audit of this, and this is something that of course is going to change the national outcome of the election. What we're seeing is a really, really significant challenge. It's a feature where they're able to take votes that are cast for President Trump and change them to Joe Biden. They're able to then also add ballots, and count ballots multiple times. This is a feature."
What happened is not a mere system glitch by the machines coming from Dominion, which was founded in Venezuela as we are told, rather they altered ballots and took away votes, said Jenna.
Michael Flynn attorney Sidney Powell calls on national military intel to investigate the Dominion/Smartmatic voting machines "conspiracy," says she has "essentially forensic evidence – math that cannot be disputed," and says relevant articles and names are disappearing on the web pic.twitter.com/zI9KztPFF3

— Daniel Chaitin (@danielchaitin7) November 15, 2020
Surprisingly, Joe Biden carries himself as the president-elect, communicating with some world leaders' and vowing to ensure that any trespassers are removed from the White House come 20 January 2021 when the tenure of a new president comes into effect. This is contrary to his pledge in September not to declare victory until the election is independently certified.
During the first of the two presidential debates between President Donald Trump and former vice president Joe Biden, the moderator Chris Wallace of the Fox news had asked Biden: "Would you pledge not to declare victory until the election is independently certified," to which Biden responded, "yes."