Unic Press UK: A BBC investigation into the Abule-Ado explosion [fire incident] links the cause to a broken oil pipeline emitting highly inflammable "vaporised liquid" at the time.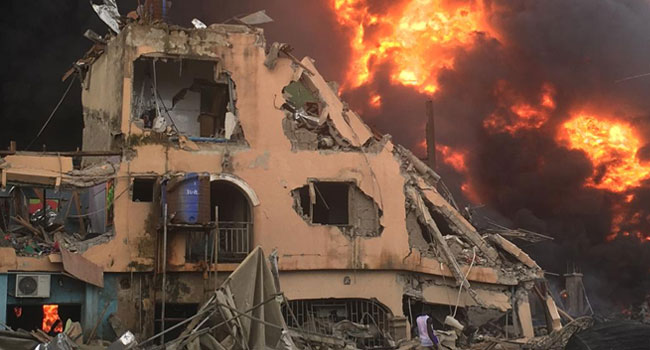 The explosion/fire started around 9:00AM on Sunday, 15 March 2020. It destroyed Bethlehem Girls' College, Abule Ado, in Amuwo Odofin Local Government Area, Lagos State, Nigeria; and killed 23 people, including the principal of this prominent school.
Having perused a video clip showing the events as recorded circa 5 minutes before the explosion/fire filmed by a member of the public, the source of the fire incident could, in part, be traced to a massive outpouring of "vaporised liquid".
The vaporised liquid flooded the atmosphere via a broken oil pipeline operated by the state-owned oil corporation NNPC – Nigerian National Petroleum Corporation, the BBC said.
In the course of the investigation the BBC engaged with several people, including the lady who shot the video clip showing a leak of vaporised liquid, some of the other eyewitnesses, several experts in pipeline/gas safety and explosion analysis; and perused satellite images and drone footage.
The outcome of the BBC calls into question the NNPC position that the explosion/fire occurred when a truck hit gas cylinders in a gas processing plant located in a pipeline right of way.
Though there was a truck parked on a surface road in the area on the date of the incident, there's no gas processing plant there. Hence, no truck hit a set of gas cylinders, the BBC added.