Unic Press UK: The National Peace Committee (NPC) chairman and former Nigerian head of state, retired General Abdusalami Abubakar and some of the committee members have held talks with the People's Democratic Party (PDP) presidential candidate, Atiku Abubakar and the Nigerian vice president, Yemi Osinbajo.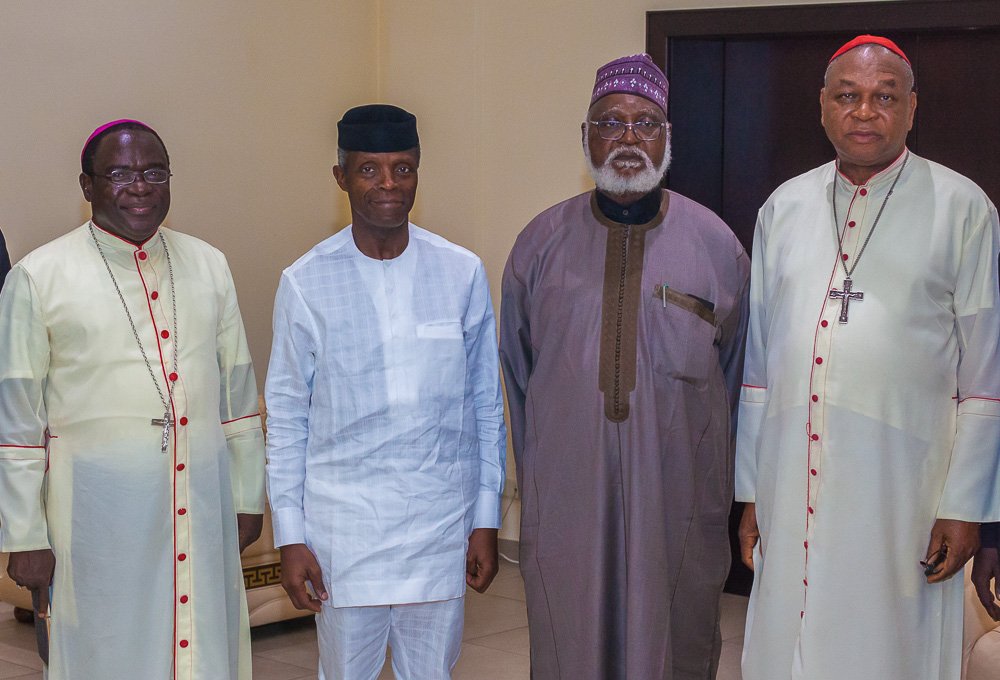 L. to R.  Bishop Mathew Kukah of the Catholic Diocese of Sokoto, Nigerian Vice President Yemi Osinbajo, former Head of State Abdulsalami Abubakar, and John Cardinal Onaiyekan of the Catholic Church.
Prior to the committee's parley with the vice president of Nigeria at Presidential Villa, its member held discussions with the People's Democratic Party (PDP) presidential candidate and former vice president, Atiku Abubakar and vice presidential candidate, Peter Obi.
Speaking to reporters after the meeting with Atiku Abubakar and the other PDP apparatchiks, the National Peace Committee chair, Abdusalami Abubakar said:
"Currently now, tensions are high and we need to see how we can douse the situation. We have come to listen to the grievances from the PDP. We will continue shuttling to see how we can make sure that the peace is maintained." 
The Presidential and National Assembly elections was held on February 23, 2019 and the leading opposition party PDP has raised a number of issues that should be thoroughly addressed prior to the Governorship and State House of Assembly and the Federal Capital Territory (FCT) Area Council Elections that would hold on March 9, 2019.